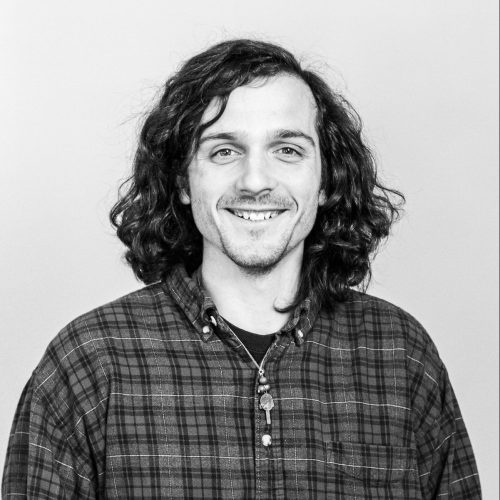 Nate Zuellig
Worship Assistant & Artist in Residence
Nate is from Ypsilanti and has lived there his whole life. He earned his undegraduate degree in music education from Eastern Michigan University. He regularly practices writing music and poetry, and now gets to do that here, at ULC! His favorite instrument is the drums.
☕  Need a conversation starter? Ask Nate about the best parks around Ann Arbor!
Poems
"Come Union" by Nate Zuellig
About the Poem: This poem evolved over a long time and with a good bit of difficulty, but I'm very happy to finally share it with everyone, along with the audio version read by Larry Frank (who was also a major player during the lengthy revision process). In the poem, I admire two main themes, unity and sacrifice, and explore how they shape and drive life in every way, culminating with the vision from Revelation of the final feast of the Lamb when we share with God and Christ in our "high communion". 
It's not really a light read or a traditional short poem, so I truly appreciate anyone who takes the time to give it a good read, and please feel free to contact me if you have any thoughts you'd like to share.
"Winters Rest (A Sabbath Song)" by Nate Zuellig
About the Poem: Just a little, traditional-type winter poem that see's rest both in nature (winter) and in God (the Sabbath). I really enjoyed reflecting again on the curious fact that, according to the Bible, even God has to rest sometimes, and he's omnipotent! So, to me that's a helpful reminder that limits are normal, and that naps should be more guilt-free and more often. 
"Our Song" by Nate Zuellig
About the Poem: The opening stanzas for "Our Song" came from an older poem that had always been a favorite of mine. My main interest behind those stanzas was the word play. Minuet – minute, hour – our, second chance – the seconds chant. This puny kind of word play (mostly on musical terms) inspired most of my favorite lines from the poem: For example, "The tonic of our souls" uses both meanings of the word, "tonic," as in a medicinal tonic taken to bring well being; and "tonic," meaning the root chord that a musical piece generally resolves to at the end. The poem builds until the thunder, "claps" and the rain, "showers" down praises along with us to God, the Great Creator. 
"Silence" By Nate Zuellig
About the Poem: "Silence" is a special poem for me. When I first wrote it, it was the first time that I had put my thoughts (which were normally scribbled out as fast as possible in block format) in a more concise poetic format, which is the style I have decided to use ever since. Along with Larry Frank's mentorship, it has been very helpful in organizing my more broad and difficult-to-pin-down ideas. And the topic of this poem is just that! I like big ideas. And this one, the origin of the cosmos from nothing, is definitely one of the biggest and broadest of them all. I've written about it many times and I'm happy to share some of my favorite and more fascinating thoughts on it with ya'll. With these types of poems (and most of the one's coming down to line are of this variety) my hope is to encourage curiosity about the more spiritual aspects of our faith and not offer absolute answers, even though at times I may present things with some decisive force. The truth is that I simply like thinking about this kind of stuff and I imagine that some other people probably like thinking about it, too. And those are the kind of people that I'd like to meet and talk to, even if we disagree on some particulars.
"Dear Christian, (A Letter to a Bad Listener)" By Nate Zuellig
About the Poem: The idea for "Dear Christian" came to me while I was praying one day. My mind was just kind of on autopilot, thinking through the tasks of the day and other random facts and scenes. Then I felt like God got sassy and told me, "Hey, would you let me say something?" because I had taken the time to sit and talk to Him but I was the one doing any "talking." It seemed funny and semi-profound, so I wrote this poem to help me not forget the lesson I felt God was teaching me and to share it with you lovely people. Enjoy 🙂
ULC Worship Songs
The Hands of God (Good Friday hymn) by Nate Zuellig
About the Hymn: The lyrics of this song imagine the two people Jesus raised from the dead, the little boy and Lazarus, standing and looking on as Christ was crucified on the cross. Although this never literally happened, you could say that they were there in the same way that a person might say, "I'll be there in spirit"; when they heard the news that Jesus had been crucified, in one sense they went there and dealt with all the sorrow and confusion that everyone present did. The listener is encouraged to pause and imagine this dramatic scene as the child, his father, and Lazarus would, and particularly as Lazarus, who would have looked on to behold, "his friend swallowed in death."
More by Nate Zuellig
Check out more original songs by University Lutheran Chapel's Artist in Residence Nate Zuellig on his YouTube channel "Original Jesus Tunes by Nate Zuellig." Included below are links to the songs and a short description of the artist.
All My Springs —This is probably the next song I'll offer to be used at ULC. The ideas behind the lyrics are based on a poem I've been working on for the last few months: the innate longing in every soul for a song that can be sung as wholeheartedly at a young age as it can be in old age, and how the Jesus fulfills that longing by offering us the fullness of life, which is the exact thing the soul desires. The line, "All my springs are in You," that is sung in the chorus is based on Psalm 87:7 and John 4:14.
All That I Desire —A bop of tune, if I do say so myself. I have a tendency to not write many fast songs, so it was great to get together with my friend Jerry Heiss (who also put these videos together! Talented fella) and wrote the majority of this song from a spontaneous jam.
Father, No One Else —One of my favorite Christian bands, Burlap to Cashmere, has some great songs that experiment with different time signatures and rhythmic feels. I wanted to try something similar, but with a classic type of melody. Not my best performance but it gives you a good enough idea of the song. Would probably be better suited for a female voice.
Delilah —This song isn't particularly meant as an offertory or congregational praise song, as it reflects and extrapolates on Samson's personal affection for the woman who betrayed him, Delilah. For me, it serves as a reminder just how blinded (ouch, pun) we can be by desire.
Let the Earth Sing Praise to Her King (Isaiah 35) —A neat little melody that came about by trying to write a song with only two chords (ending was tagged on later).
Your Love is Better Than Life (Psalm 63) —Just a simple song I wrote based on Psalm 63. The verse came to me because I was talking with my parents just a couple days before and my Dad quoted it as one of his favorites. The chorus lyric comes from Luke 19:40.
Hymn and Dance for the Revelation Wedding —I had a lot of fun with this one. The style reminds me of some Russian and Jewish folk music I've enjoyed over the years. There is a little vocal boo-boo in the recording near the end but, if you were listening to it live, I'm sure no one would have noticed because they would of been too busy dancing 😉
Stay With Me —An offertory song, reflecting on our role and Gods role. The Lord calls us, we turn away (as Adam and Eve did). We are in need of healing, and Christ's work is to heal us. God is glorious and we are made to praise Him. In all these ways, God's strength is perfected in our weakness (2 Corinthians 12:9). Reflecting on that has helped me approach God more blatant honestly, faults and all. I hope this song blesses you in the same way 🙂
In Christ There is No East or West (with added chorus) —I first heard the instrumental version of this hymn done by Leo Kottke and loved it. When I found out it had beautiful words to go along with it, I knew I wanted to share it with others. This is my version of, "In Christ There is No East or West" with an original chorus written by myself with new original music and words. I have been very happy to share this song at University Lutheran Chapel over these past few weeks. It is the first song I have introduced since beginning my new position there as Worship Assistant and Artist in Residence. More to come soon!